Nuclear power is the world's second largest source of low-carbon power.
Positioned across the entire value chain and the complete lifecycle of Nuclear Power Plants (NPPs), Omexom delivers a wide range of solutions for works and maintenance deliveries.
We are both a local and an international nuclear power player, working in Nuclear Power Plants in France, Europe, South Africa, China, Japan, Korea… Thanks to our technical expertise and vast experience across the world, we ensure complex projects implementation in regard to the highest levels of safety requirements to provide performance and reliable solutions.
Comprehensive solutions for all the lifecycle of nuclear power plants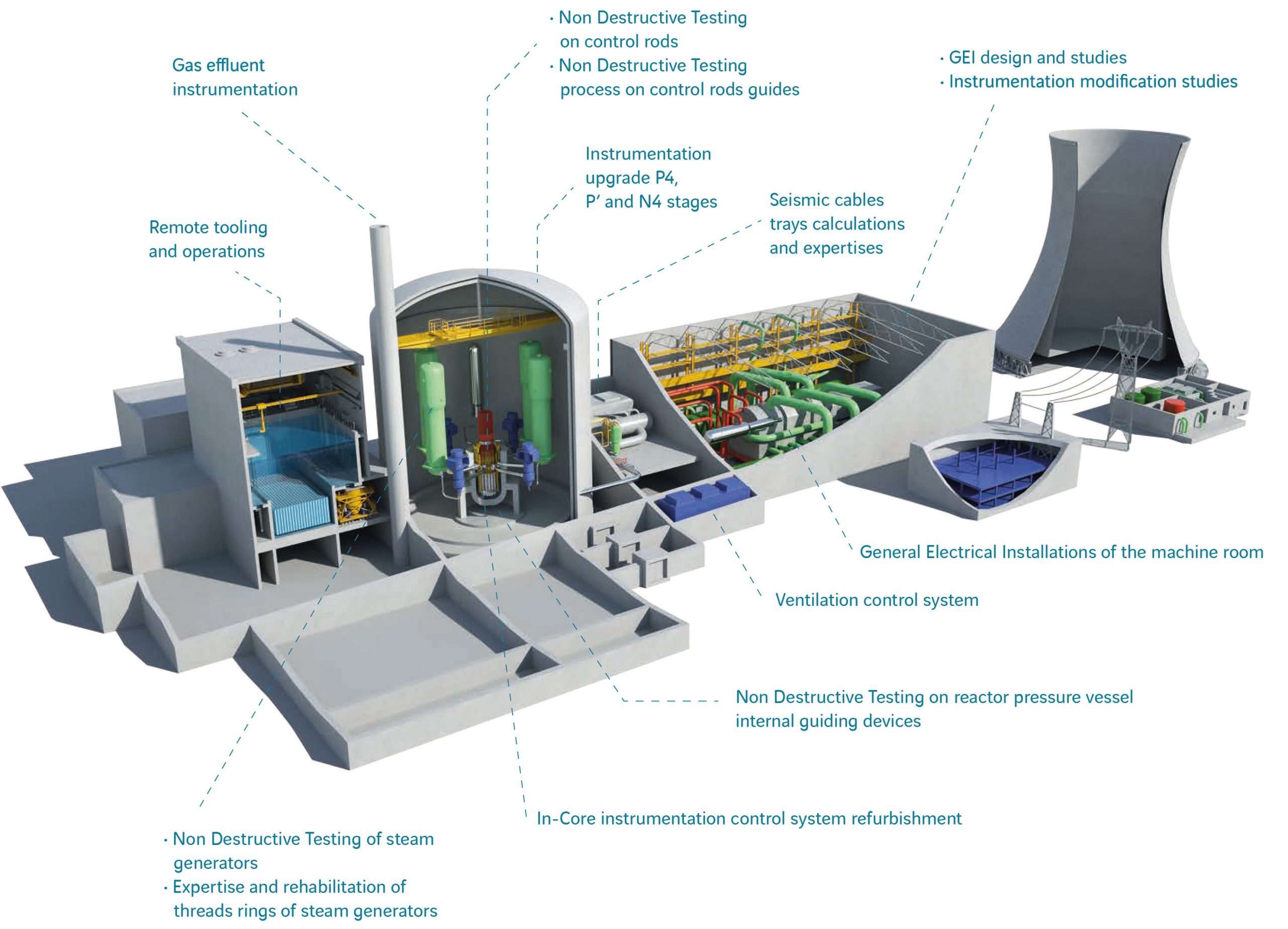 of experience

of nuclear generation process

in NPPS
Our expertise for nuclear power plants
Electrical design & works

0V to 400kV
Instrumentation & control-systems
Low & high voltage
General electrical installations
Electric and communications networks
Physical protections
New build and renewal projects:

Design and engineering
Qualification of equipment for seismic and radioactive requirements
Supplies
Installation
Commissioning

Non-destructive testing (NDT)

ENGINEERING

Design and qualification of NDT systems
Data analysis

CONTROL SERVICES ON SITE:

Steam generators and heat exchangers
Primary and secondary circuits in NPPs
Know-how of all NDT technics and mastering of televisual inspections

Maintenance

ELECTRICAL MAINTENANCE:

Low and high voltage
Temporary cabling during unit overhauls

INSTRUMENTATION MAINTENANCE:

RIC and RGL refurbishment: C&S of neutronic Incore instrumentation
Valves and instruments

OTHER MAINTENANCES:

Access controls and physical protections
Annual outages maintenance
Post-operation and decommissioning
Download the Nuclear brochure