The share of wind power in the world energy mix is expected to double by 2040, and consequently quadruple its installed capacity. Omexom has over 20 years experience in the wind energy sector and provides a wide range of services from project engineering to operation and maintenance.
On top of its historical T&D activity, Omexom's know-how of utilities and independent power producers' contractual requirements are key to ensure the success of your wind project. Moreover, with its strong local network. Omexom has full knowledge of local grid requirements and practices.
Omexom engages in the highest levels of requirements in term of quality, environment, health and safety to deliver sustainable and efficient solutions.
Your one-stop BOP contractor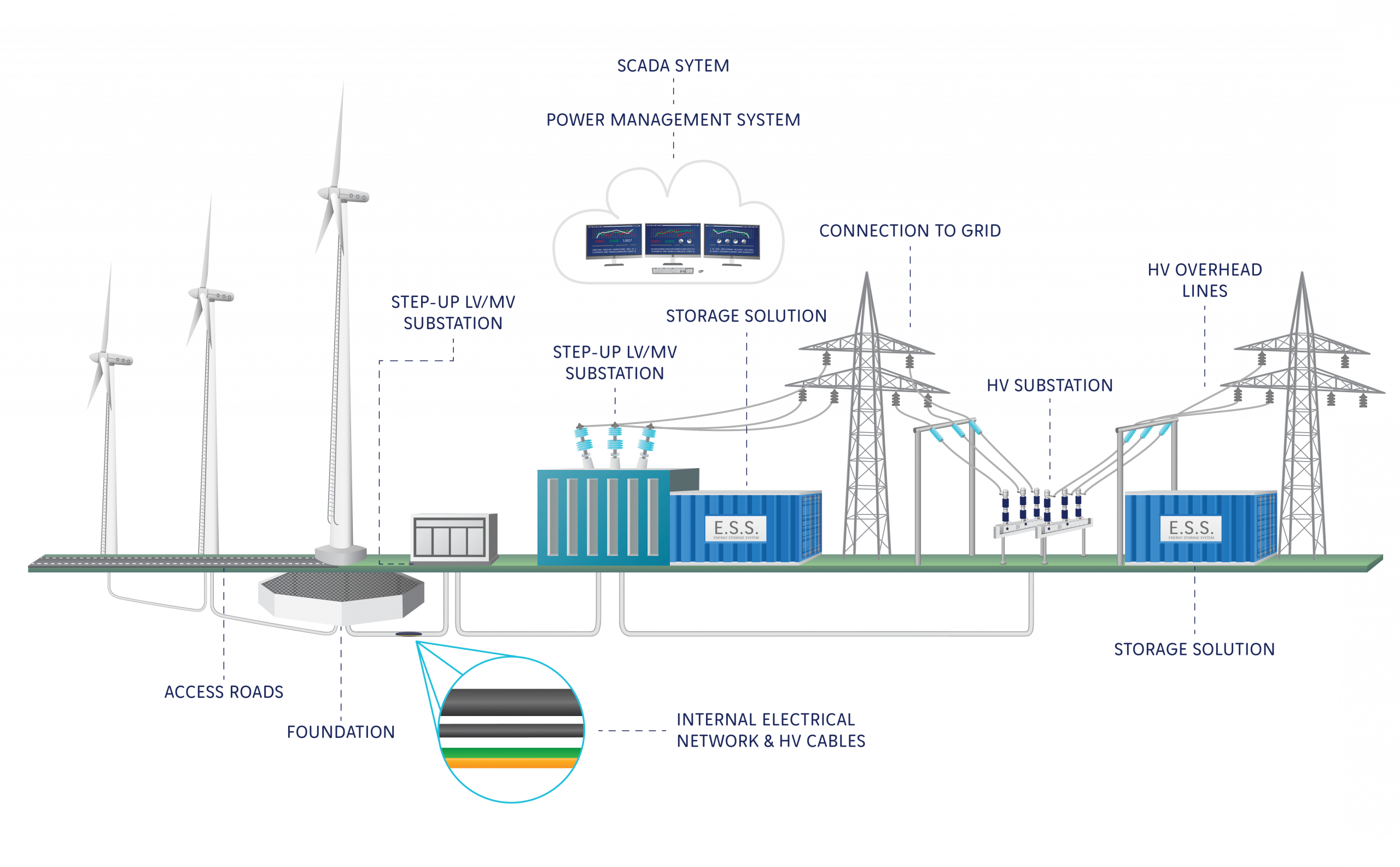 of expertise

projects across the worls

of installed capacity
Our expertise for wind projects
Engineering

Preliminary study (including Grid integration study compliant with Grid code)
Basic design of the CBOP** & EBOP*
 Geographical studies
Road design
 Turbine foundation design & soil reinforcement
Grid connection point design (including ancillary services solutions specifications)
Gathering system, substation & transmission line design
 Telecommunication system
 Protection plan

Civil works (detailed design, supply & construction)

Earth work
Anchor cage & ferrule
Sleeves, earthing, reinforcements & concreting
Sealings & mortars
Trenches (drainage & electrical)

Electrical work (Detailed design, supply, construction & commissioning)

Turbine step-up LV-MV substation
Gathering system (underground & aerial) from turbine to step-up substation
Telecommunication system
MV-HV step-up substation including substation SCADA & interconnection of wind farm SCADA to the Grid
Ancillary services solution (including energy storage system, power factor compensation services & harmonics)
HV transmission line & HV underground cable
Extension of existing HV substation
Download the Wind brochure