Charging infrastructure for electric and hybrid vehicles
In a context of energy transition and innovation, individual and collective e-mobility solutions are rapidly expanding.
Omexom is contributing to the development of e-mobility by working with local authorities and businesses to deliver their projects for sustainable mobility for cities and rural areas.
Working independently from energy suppliers, Omexom offers integrated charging infrastructure solutions for electric and hybrid vehicles.
Omexom also develops custom software and apps for users, operators and managers.
Omexom Business units have strong local roots, meaning they can offer the combination of global and local solutions needed to roll out projects across several countries.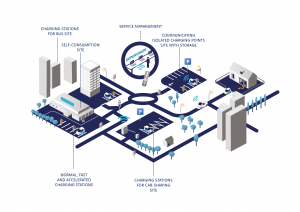 Design

Needs analysis, diagnosis & integration into parking plans
Electrical scaling calculations & charger location plans
Preparation of administrative dossiers: permits, subsidy requests, connection to the power distribution grid

Construction

Choice of materials & supply of equipment
HV & LV infrastructure work
Roads & external works
Electrical compliance and commissioning

Operation

Dedicated web interfaces for operators, users & local authorities
Charging point location & availability
Automated & customised requests: breakdowns, alarms, user requests, etc.
Tracking key performance indicators: real-time & records
Energy management: supply & arbitrage

Maintenance

Preventive and corrective
CMMS & remote management
On-site & remote system update

Assistance & advice

System user-training for operators
Technology monitoring & support for future system upgrades
Help for communication around the projects

Paring management

Access: RFID/NFC/ bar-code badge readers
Physical locks
Counting & e-payment
User app: web & smartphone