Make local, sustainable and shared energy projects a reality
The global shift to renewable energy production as well as the development of storage and smart grid technologies are accelerating the move toward decentralised energy systems. Local energy grids are at the core of a circular, renewable energy-based economy.
Local energy grids bring power generation close to where it will be used, from a single building to remote consumption communities or urban districts. This can bring a wide range of benefits such as providing off-grid energy access, securing energy supply or decarbonising local energy consumption through renewable local production.
Omexom has over 20 years of experience in the renewable energy sector and provides a wide range of services from local energy grid engineering to operation and maintenance of customised, flexible and integrated energy solutions and infrastructure. We provide monitoring and supervision solutions to build smart, resilient and local energy systems.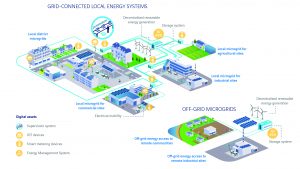 Project engineering ∙ Contractual scheme ∙ Preliminary study ∙ Regulatory study ∙ Business model analysis
Expertise
Engineering

Infrastructure design and installation

Renewable energy generation
Conversion & storage
Electric charging infrastructure
Energy efficient street lighting
Civil & electrical works

Monitoring and control systems

 Energy Management System
 Self-consumption optimisation
Supervision system
Smart metering