News
Episode 5 – Omexom Green Story: Reducing greenhouse gas emissions with autonomous base camps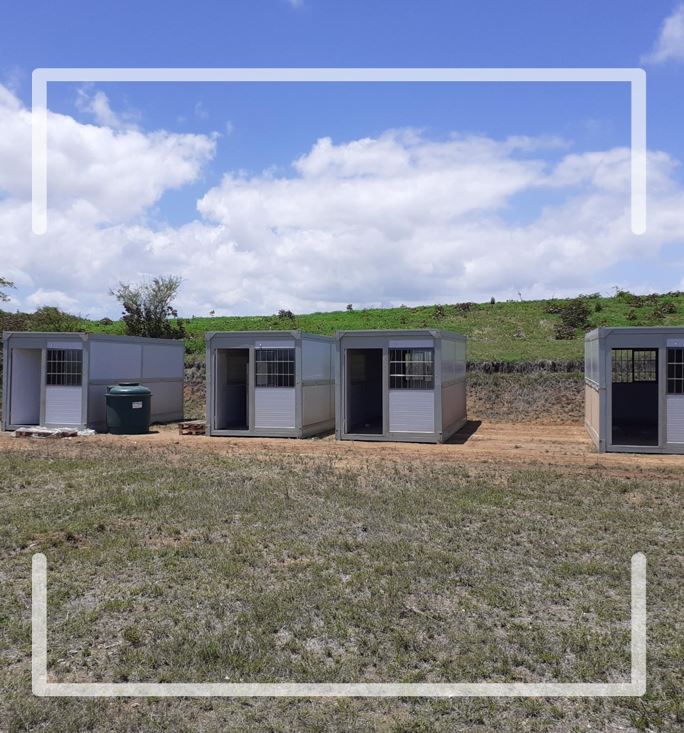 Acting for the climate is one of the key priorities of VINCI's environmental ambition. At Omexom, some of our Business Units have already developed ways to tackle this challenge and to produce the energy needed for base camps.
While they may look simple from the outside, the containers you see on construction sites are actually tiny buildings containing a lot more than tools. These living spaces, where site staff spend the big part of their day, comprise fully equipped offices, kitchen and breakrooms, change and washrooms. Like any building, they require heating in the winter, cooling in the summer, lights, sinks, and power outlets, and all these amenities require access to electricity and water.
Here are some examples of initiatives used by Omexom:
New Caledonia: Autonomous and renewable production for isolated construction site in Nouméa
In Nouméa, New Caledonia, Omexom teams have developed a new type of base camp, which allows them to source energy from the sun and use water from the atmosphere in complete independence. Thanks to 20 solar panels equally installed on four containers, the base camp is energy self-sufficient
Moreover, because the containers are collapsible, it is possible to reduce GHG emissions from their transportation by using one truck instead of four, eliminating three shipments.
The solar PV modules have been set up on the roof of the containers, with a 6kWp capacity installed, fulfilling all the electricity needs on site. The way the panels were set up also provides shade and protection from the elements, adding to the quality of life on site and reducing the need for air conditioning.
To go further, an energy storage unit allows a fully renewable production with a three-day autonomy, eliminating the need for a fossil-fueled generator.
In addition, a system for producing water from the atmosphere provides ready-to-drink water to the base camp, remineralised via cartridges, which in turn saves on trips usually required.
After this first pilot project has been proven efficient, Omexom in New Caledonia is already using a similar setup on another worksite and plans to expand it to other job sites.
"These base camps are crucial for us. They are both easily adaptable and enable us to reduce our environmental impact."
JULIEN BARRAS
Business Unit Manager, Omexom in New Caledonia
Germany: Sun and wind replace fossil fuels
In Germany, the sun and wind as a natural energy source and green power solution replaces traditional coal, gas, and nuclear sources at construction offices at the Stade-Landesbergen construction site.
The team installed solar PV systems on the roofs of containers that serve as construction offices. The modules are stackable, prefabricated, and optimised for containers. The cells can be set up at different angles. The modules as well as inverters and batteries (in a cabinet system) are transportable and work with a plug & play system. The battery storage can be used modularly in different power units.
Thanks to these base camps, we are acting for the climate, and we are reducing the carbon footprint of our sites.
JULIEN BARRAS
Business Unit Manager, Omexom in New Caledonia
Belgium: Reducing energy consumption by 75 percent
Reducing the ecological footprint of site activities also intrigued our teams in Belgium, who have implemented a mobile off grid PV installation, using batteries to significantly reduce their power consumption at their Poort van Dendermonde site. A roof area of 5-yard containers, on each of which six panels are placed with two batteries for storage purpose. The energy consumption of the site will thereby be reduced from an estimated 4.5 kWh to about 1.1 kWh.
France: Better quality of life through 'silent' solar kit
A desire to eliminate the noise and pollution from a generator motivated a construction site team in France to install solar panels to power their base camp. They have installed an autonomous 915Wp solar kit. The kit consists of three solar panels installed flat on the roof of the container, making them invisible from the ground. Two solar batteries store the energy to restore it when using the equipment, such as microwave, radiator, lights, and refrigerator. The team has found a better quality of life in their main gathering place, where they take their breaks and hold site meetings, now without noise and pollution.