News
The green poles of the future at the Omexom Institute training centre in Norway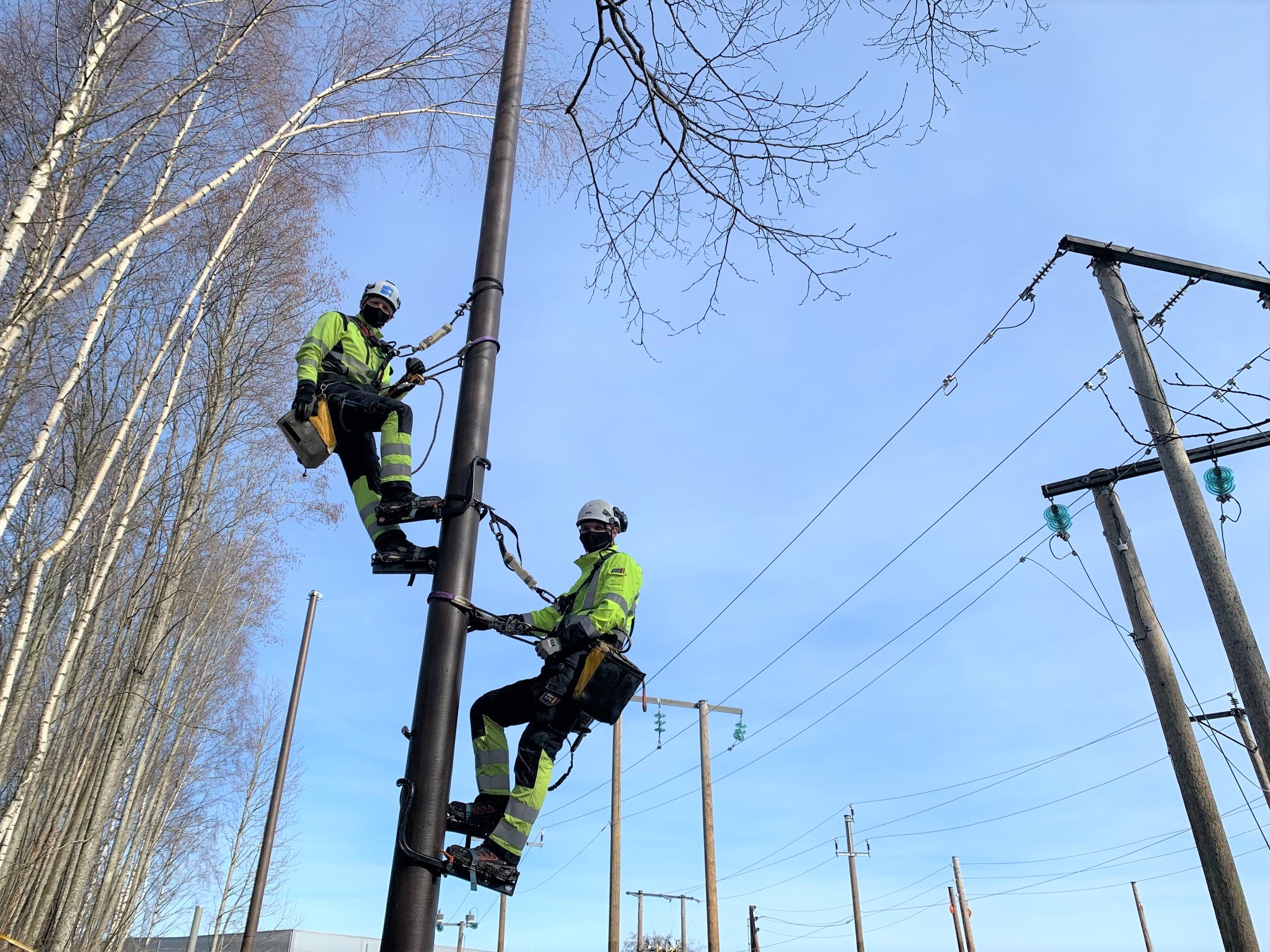 In a few years, it will be forbidden to use creosote-impregnated wooden poles, but the Omexom teams in Norway have already taken the consequences and installed new environmentally friendly poles made of composite wood and natural wood in encapsulated hard plastic.
New environmentally friendly poles
The creosote-impregnated wooden poles are working overtime, currently under exemption until 2021. Nevertheless, Omexom teams have taken the consequences and have already installed new environmentally friendly poles in composite wood and natural wood at the Frogner Omexom Institute training centre north of Oslo. Omexom's training centre is part of the Electrical Engineering Training Bureau, Romerike.
"The new poles require few adjustments. We can use the same climbing and safety equipment as ordinary wooden poles, but as the composite and plastic poles have a smooth surface, the throat strap we use must have spikes. The climbing technique is also very similar to walking on traditional wooden poles," says Jørn-Yngve Jensen – head of training.
Safety is our priority: practice in our training centre
The new poles at the training centre are from the manufacturers Jerol and Wopas. France has already introduced a total ban on creosote-impregnated stubble.  The EU has been working for several years on a ban directive. In Norway, it is estimated that our network business units are replacing between 10,000 and 15,000 creosote-impregnated wooden poles.
"The new poles have all been put into service by several business units in our network. Here at the training centre, we and our trainees can also try climbing this type of pole. It provides valuable experience for all Omexom employees. And if there are other manufacturers who want their poles, we have room for more! All pole suppliers get valuable feedback on use and wear, because we have courses here all year round", say Espen Tufte and Håvard Jørgensen, both of whom are affiliated to the Omexom Institute training centre as instructors.
At Omexom, we focus on safety and sustainability. The new environmentally friendly poles are becoming more and more common. Thankfully. And we are ready to work with the green poles. We have already had assignments with the installation of composite poles for customers.
Jensen Jørn-Yngve
Head of Omexom Institute training
Every autumn, Omexom welcomes new trainees to the training centre for a six-week introductory course. Nowadays, there are also annual descent courses that all fitters should attend.